President:
Benno Lüthi, Forch (CH)
Scientific Director:
Dr. Klemens Pütz, Bremervörde (D)
Trustees (from left to right):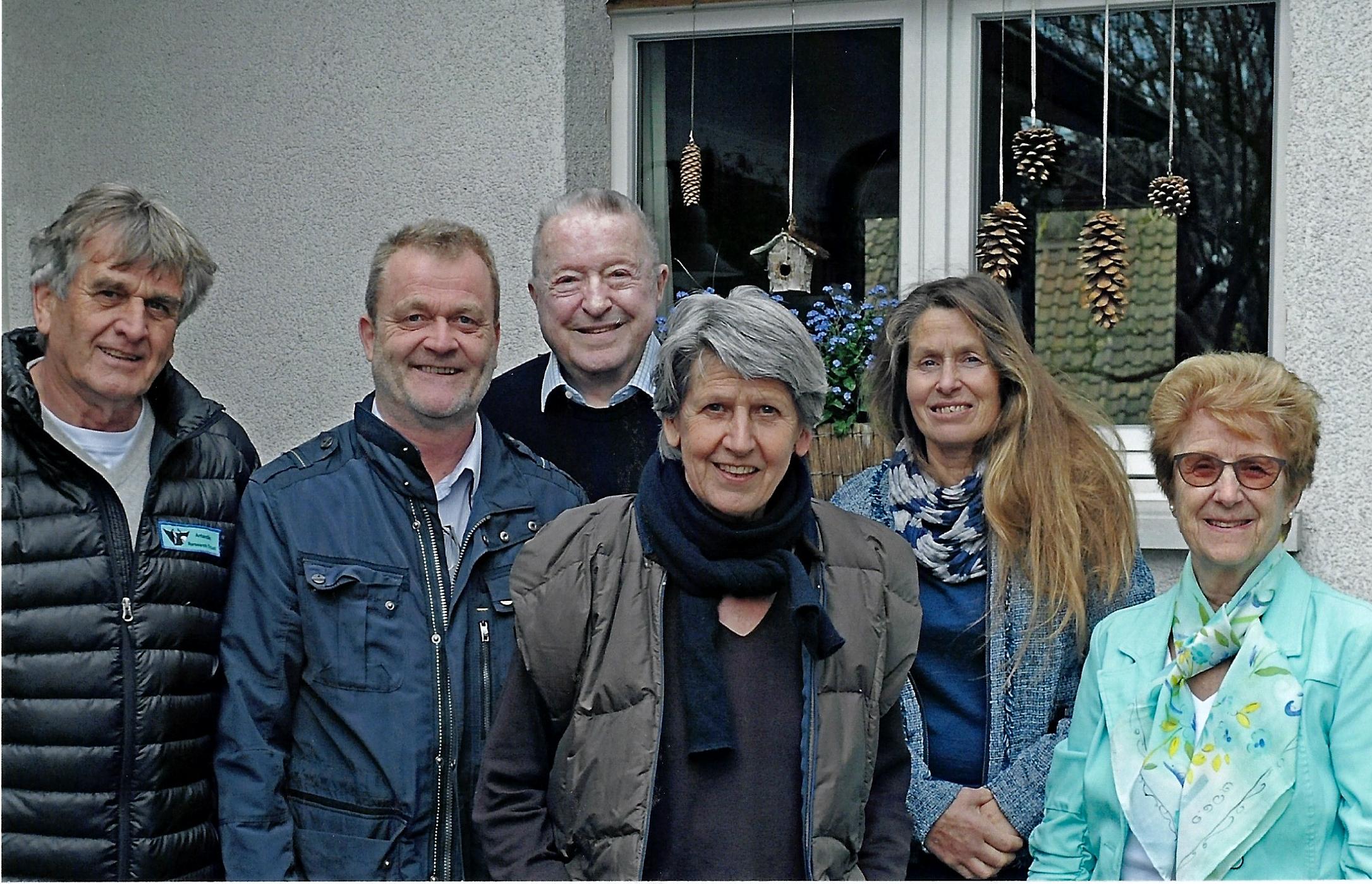 Benno Lüthi, Forch (CH)
Klemens Pütz, Bremervörde (D)
Hanspeter Corti, Winterthur (CH)
Marianne Lüthi (CH)
Sally Poncet, Stanley (FI)
Erica Corti, Gimli (CA)
Not pictured: Dr. Alex Rübel (CH)
Biography Benno Lüthi
Benno Lüthi was born in 1945 in Zürich. After a chemical-technical apprenticeship he worked for five years at the Technical University in Zürich. Following this he studied medical chemistry at the Zürich children's hospital. Between 1969 and 1994 he was director and co-owner of the medical laboratory DIAGNOSTICA in Zürich. Apart from human medical research, the laboratory was also engaged in veterinary medicine, especially parasitology in wild animals. In 1990 he was elected a trustee of the charity for the conservation of bats in Switzerland. In 2001 he joined the voluntary team at Zürich Zoo. Since 1997, when he made his first voyage as a tourist to the far south, Benno has been fascinated by the Antarctic continent and has returned several times as lecturer and expedition leader. In 1997 he was co-founder of the Antarctic Research Trust (ART), of which he has been president ever since. He is co-author of numerous scientific studies on penguins and other wildlife in Antarctic and sub-Antarctic regions.

Biography Klemens Pütz
Klemens Pütz was born and grew up in Bonn, Germany. He started work as an animal keeper at Frankfurt/Main Zoo, then continued as medical assistant at the Klinikum Steglitz in Berlin. From 1983 – 1989 he studied biology, first at the University of Berlin, then at the University of Kiel. Afterwards, he became a penguin researcher and, until 1997, conducted a number of expeditions to the Antarctic and to several sub-Antarctic islands. His work focussed on the foraging ecology of Emperor and King Penguins, for which he was granted a PhD in 1993. In addition, he was involved in ecological and physiological studies of other penguin species, albatrosses and seals. In 1997 he emigrated to the Falklands Islands where he lived until 2001 working as scientific fisheries observer and scientific consultant for Falklands Conservation. During his time in the Falklands he was co-founder of the Antarctic Research Trust, of which he is trustee and scientific director. In 2001 he returned to Germany to take up a position for two years at the Vogelwarte Hiddensee of the University of Greifswald to investigate the determination of the migratory behaviour in Lesser Black-backed Gulls. He now works as a freelance biologist and continues his research into the foraging ecology of penguins in the Southern Ocean as Germany's only penguin researcher. His research over the past 30 years has been published in over 100 scientific publications, in addition he regularly appears in various media. Since 1994 he also works as expedition leader and lecturer on various Antarctic cruise vessels and has accompanied over 80 voyages so far. He is also author of a travel guide and an animal identification guide for the Antarctic Peninsula, the Falkland Islands and South Georgia. In 2018, he published the book "Unverfrorene Freunde", a comprehensive account on penguin biology, enriched with personal experiences and anecdotes. See also Wikipedia.

Biography Sally Poncet
Sally Poncet lives in the Falkland Islands and has spent the past 30 years carrying out environmental research in the Falklands, South Georgia and the Antarctic. She has a special interest in seabird and habitat conservation, and the environmental history and botany of these regions. Her studies at South Georgia include an annual census of wandering albatrosses and historic sites and invasive species survey. In collaboration with Dr. Jenny Scott, she carried out the first environmental baseline survey of the island for the South Georgia Government, later managing the island's first rat eradication feasibility trial, folllowed by an albatross survey in 2003-04, with researchers from the British Antarctic Survey and Australian Antarctic Division, and a Giant petrel and White-chinned petrel survey in 2005-07. Sally has worked on many land restoration projects in the Falklands, including the control and eradication of introduced species. She is author of several scientific publications and books, including 'A visitor's guide to South Georgia' and 'Southern Ocean cruising'. In 2015 she was awarded the Polar Medal for her live-long committment to polar affairs, followed in 2019 by the Morag Husband Campbell medal for her "outstanding contributions to the study and conservation of wildlife and heritage of South Georgia". See also Wikipedia.